iProtect Cell Phone Detector with White Noise
KJB - NG2000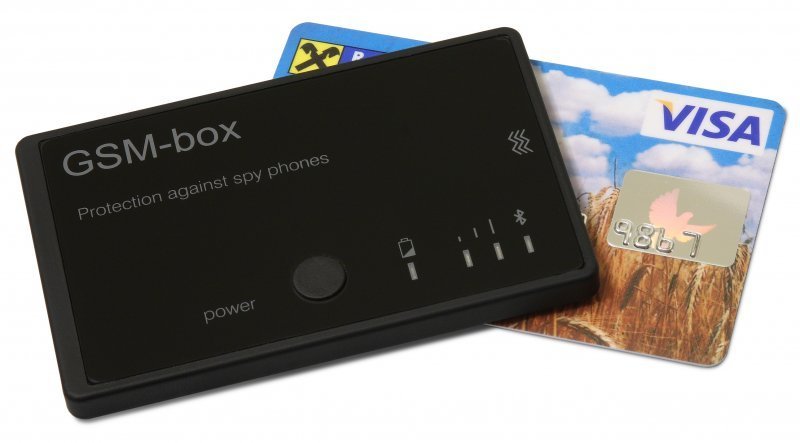 with the iProtect Cell Phone Detector with White Noise you can protect yourself from open air from eavesdropping using the NG2000 Cell Phone Detector and White Noise Generator. Designed to alert and protect the user from electronic eavesdropping threats, the NG2000 springs to action in the presence of unwanted GSM or CDMA signals.
Detector of illegal activated cell phones!
The iProtect Cell phone detector has been designed to detect and indicate the illegal activation of a mobile phone. In addition to this main function, the N2000 also creates interference to the surrounding area of the telephone's microphone by generating 'white noise' when radio-waves are detected; this noise suppresses the microphone in the telephone rendering it useless.
Warns you with the help of the 3 LEDs and a sound alarm when the telephone starts exchanging data with the network
Automatic generation of audio interference (white noise)
Accurate and sensitive detection of GSM 900/1800/1900, CDMA850, WCDMA2100 (3G, UMTS) by Bluetooth intelligent algorithm of the microcontroller
Separate visual and sound indication of different communication protocols
Portable design
High sensitivity for detection with pre-selectors provides a better detection distance
Long battery resource of up to 5 days (low current consumption)
Does not block the mobile network in the area
Current 3 mcA/15mA standby/noise
Power source 3V, CR2430 battery
Frequency range Noise generator: 300-5000Hz
Detects: GSM 900/1800/1900, CDMA850, WCDMA2100 (3G, UMTS ) Bluetooth
Weight .75
Unit Size 3.25 x 2 x .25
Box Size 7 x 4.50 x 1.50
Download Manual
Dimensions: 3.375" L x 2.125" W x 0.25" H
Weight: 0lb 2oz

Included with this item
Manual
2-Batteries size CR2430
Cleaning Cloth