Wi-Fi Body Worn HD Camera and DVR
KJB - DVR550W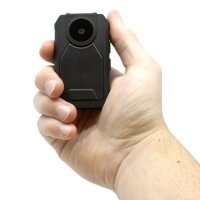 This body worn camera comes equipped with the smallest 5MP pin-hole camera and records in 1080P HD video. With Wi-Fi built in, using the APP you can stream live video feed from your smart phone or tablet.
Police body worn camera with Wi-Fi 1080P
Wi-Fi built-in 1080p keyfob DVR
Smallest 5MP pin-hole camera
Records at 1080p/720p/WVGA
1080p high definition video 1920x1080 H.264 30fps .mov format
Recording and play back video on App
Store video on Memory Card
Real time record any video and audio evidence
Vibration alert for Power/ Rec / Wi-Fi
LED indicators for power / charging / Wi-Fi / Rec
Stream real time recording on your smart phone or pad
Allows you to store video files on your smart phone
LawMate product # PV-50HD2W
LawMate Made... KJB trusted and Approved!
Perfect for LawEnforcement body worn camera, sports camera or any time you need to record video hands free.
Camera: 1/2.9" Progressive CMOS Sensor
Video File Format: MOV/JPG
Picture File Format: H.264 JPEG
PC Interface: Mini USB 2.0
Time Stamp: YYYY.MM.DD
Power Consumption: 260-300 mA (Wi-Fi off)
Charging Time: 180 min
Battery Type: DC 3.7V/ 1400mA high polymers battery
Battery Life: Continuous Recording 200 min (Wi-Fi on)
Recording Time: Approx. 160min @ 1080p
Min. Illumination: 0.03 Lux @ F 2.0
Lens: 4.6mm
Angle of View: 78°
Video Resolution
Camera: 1/2.9" Progressive CMOS Sensor
Angle of View: 78°
Video Resolution: 1080p/720p/WVGA @30fps
Photo Resolution: 5MP
Sensor Resolution: 2000x1121
Wi-Fi: Built-in WiFi Module
Memory Type: Micro SD Card max 32G
Dimension: 8x4.5x2 cm
Download Manual
Download App Guide - PV Cam Viewer
Dimensions: 3.25" L x 2.063" W x 1.563" H
Weight: 0lb 2oz
Download Specification Sheet
Included with this item

SD-16G Memory Card
USB Cable
DC 5V/2A Charger
Adapter Head- European Standard
USB Charging Cable